Along with Mao Mao, Hien is one of the icons of the Sonic Wings series. He is a mysterious and impassive ninja who serves a Shogun even as he fights on the side of Project Blue. Hien has little patience for the goofy antics of some of his fellow pilots. However, he does show a slight fondness for Mao Mao, even though he often calls her a baby and tells her she whines too much.
Hien is a young Japanese man. Only his brown eyes and a little of his black hair are visible, and he has an X-shaped scar on his forehead. In all six games, Hien wears a black helmet with a red throwing star on the side and the kanji 忍, meaning "shinobi" (ninja), on top. Hien always wears a black ninja outfit with a red scarf.
In single-player mode, Hien has very little personality. The text between missions consists solely of descriptions of missions assigned to him by the Shogun. After the final boss battle, Hien reports in to the Shogun and receives orders to continue fighting.
In two-player mode, Hien fights with Mao Mao. At times, he loses his calm demeanor by growing impatient with her complaining. The scene after the final boss battle reveals that the events of the game were only a movie in which the pair starred.

Mystery Fighter
On the order of the emperor(!), the Aero-Ninja is back. He amplifies his ninja skills with an energy-booster and uses it to drop devastating bombs.
-Aerofighters 2 English game manual
Unlike other returning characters, Hien has not changed his outfit since the first Sonic Wings, although his FSX has a new look. He continues to be unmovable for the most part, although he is a bit bewildered by some of his strange new fighting partners. In single-player mode, Hien receives and responds to orders from an unseen commander, who proves after the final boss battle to be the Shogun from Sonic Wings. Just as Hien is about to take a rest from his efforts, a subordinate ninja informs him that he has yet another mission.
In two-player mode, Hien can be paired with any of the other pilots:

Hien is again taking radioed orders from the Shogun, who asks him to pursue and identify the enemy. They lose radio contact briefly; then the Shogun tells Hien that he is no longer fighting on Earth. After the final boss battle, Hien reports to the Shogun and asks if it is "just to destroy a world" (apparently the alien planet to which the enemy had taken Hien) in order to perfect the Earth. The Shogun declares that such a question is a sign of weakness.
In two-player mode, Hien is paired with Mao Mao. Hien is a little more tolerant of her than usual, even telling her she looks cute in her costume; however, he also tells her not to be a pain. After the final boss battle, Mao Mao tells Hien she wants to know what he really looks like. He obliges by taking off his mask to reveal first Mecha-Keaton then a log, leading Mao Mao to realize that he can change his appearance at will.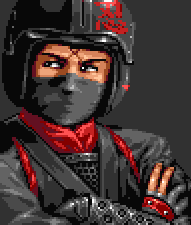 Hien reappears in Special without any noticeable changes; he is again paired with Mao Mao in two-player mode.
One-Player Mode Endings:
Boss battle with Pandora or Gurabura: Hien returns to his master, the Shogun seen in earlier games. The Shogun praises Hien's work and tells him to go home to rest.
Boss battle with Lar or Do-ni Revision: As in his single-player ending from Sonic Wings 2, Hien returns to the Shogun who allows him to rest-- this time in a steam bath. However, Hien's break is again interrupted by the other ninja who tells him there is a new mission.
Boss battle with Balbi or Osaru: Hien reports to the Shogun who again blasts off in an ending similar to the two-player ending with Mecha-Keaton in Sonic Wings 2. However, this time the Shogun is pleased with Hien's work.
Two-Player Mode Endings:
Boss battle with Pandora or Gurabura: As in their two-player ending in Sonic Wings, Hien and Mao Mao appear in a movie, credited in the cast along with the game's bosses.
Boss battle with Lar or Do-ni Revision: The ending for Sonic Wings 2 is repeated, with Hien rescuing Mao Mao from her burning plane.
Hien returns in Assault, where he seems even more stern than normal and speaks primarily in Japanese even in the English version of the game. He is voiced by Masaki Aizawa in both versions.
Hien reprises his role from Sonic Wings Special.
Voice Samples
Edit
Artwork Gallery
Edit
Screenshot Gallery
Edit
Community content is available under
CC-BY-SA
unless otherwise noted.