Inufuku (meaning "lucky dog") are odd, round little creatures who began appearing in Video System games in the late 1990s. They love sweets, especially chocolate.[1]
Since the release of the quiz and pet-raising game SukuSuku Inufuku, the Inufuku seem to have enjoyed modest popularity in Japan with a variety of merchandise such as plushies and figures.
If the player allows the Purple Sphere to escape in the Bermuda Triangle stage, an Inufuku walks across the screen with the background music from Chaika and Pooshika's bomb but no text.
An Inufuku appears if the final boss Do-ni Revision is allowed to escape, and one is shown on a screen in the background of the Kyoto stage. Inufuku also appear in some promotional game art (see gallery below).
Mao Mao wears Inufuku barrettes (see gallery below).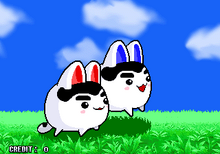 In this quiz game, the player raises an Inufuku by correctly answering questions posed by a series of challengers; the choices made determine the Inufuku's progress and statistics. While there is a basic Inufuku style, many other varieties also appear depending on how questions are answered. Each challenger also has her or his own unique style of Inufuku. One of the most notable sets of Inufuku mimic the twins Chaika and Pooshika from the Sonic Wings series.
This sequel to SukuSuku Inufuku functions the same as the original, with the player again raising an Inufuku.
Artwork Gallery
Edit
Screenshot Gallery
Edit
References
Edit
Community content is available under
CC-BY-SA
unless otherwise noted.